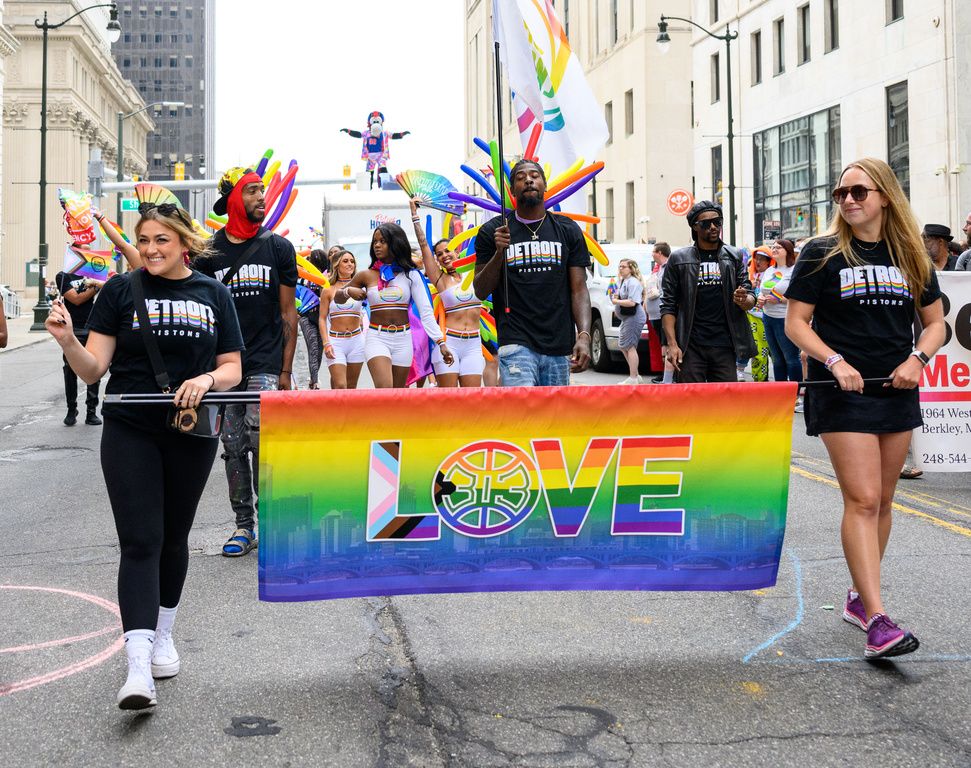 July 26, 2023 | Articles The Pistons
Former NBA player Jason Collins praises Tom Gores' Detroit Pistons for DEI efforts during Pride Month
In the spring of 2013, Jason Collins wrote, "I'm a 34-year-old NBA center. I'm black. And I'm gay," in a
first-person essay for Sports Illustrated.   

In 2014, Collins became the first openly gay athlete to compete in one of the four major professional
sports leagues.  

Collins shared his story as one of three panelists during the Detroit Pistons' recognition of LGBT Pride
Month in June. In one of several events to celebrate the month, Pistons employees were invited to listen
to the conversation between Collins, journalist and Detroit native Aaron Foley, and Rob Smith, an
activist and the founder of The Phluid Project, a clothing brand. Platinum Equity intern Grace Reyes
moderated the mid-June panel that took place in a room overlooking the practice court at the Henry
Ford-Pistons Performance Center.  

When Platinum Equity founder Tom Gores moved the Pistons franchise back to downtown Detroit in
2017, he said he viewed the organization as an asset to unify the local community.
 
Since then, Gores and the Pistons have shown allyship with the LBTQ+ community with year-round
support. While attending a Pride night at a Pistons home game in 2022, Michigan Gov. Gretchen
Whitmer praised those efforts.  

"From (owner) Tom Gores' leadership to what the organization has done in the community for
individuals and using platforms is impressive," Whitmer told the Detroit News. 
 
The organization has engaged with the Detroit community with a focus on diversity, equity, inclusion
and social justice efforts. Earlier in the month, a Pistons contingent participated in the Motor City Pride
parade in downtown Detroit. 

As for Collins, he said he was inspired by tennis greats Billie Jean King and Martina Navratilova, who
both have been out for years. 

"I want to be that role model for future male athletes," Collins said. "Thank God for women because
they've been leading the way, particularly in sports with Billie Jean King and Martina Navratilova. The
bravery and courage they have shown; they were truly my idols when it comes to LGBTIQ+ professional
sports athletes."   

During the discussion, panelists discussed the importance of respecting LGBTQ+ voices, equal rights and hopes for the continued progress of inclusivity. There was a mutual agreement on the importance of
support from major organizations like the Pistons.   

"This is a sports town; all four professional teams are here in the city and to have at least one of them
show that allyship and Pride, that means a lot to me for someone that's grown up here," Foley said.   
The panel was followed by a question-and-answer session.   
"It's fun to celebrate what we've done, but it's also important to educate and take these moments to
talk about how much more there is to do," Smith said.  "But Pride is just one month in the year, the real
commitment comes when we talk about this and do the work the entire year."  

Pistons diversity, equity and inclusion vice president Stefen Welch said such events are important to
show allyship. 

"We're always going to find ways to participate and show folks we're supporters," Welch said.  "I truly
believe our organization is one of the most diverse and inclusive organizations in professional sports so
we're going to find ways to continue to be that trailblazer and try to make us even better."   
 
The Pistons join in Detroit's Pride celebration 

Rainbow flags, balloons and music illuminated the city streets in downtown Detroit a few days before the panel discussion.   

Adorned in a glittering teal jumpsuit, silver pumps and blue eyeshadow, drag queen Natalia Apple
walked the streets as nearly 50,000 people celebrated inclusion, equality and unity at the annual Motor
City Pride parade.  

Apple joined the Pistons contingent since there is a family connection. 

"My mom has worked for the Detroit Pistons for 28 years," Apple said. "I've always been involved with
the Pistons organization but I'm now a drag queen in the community so I'm here to support and be on
the front lines of the parade."   

As cheers filled the air, Pistons team members, dancers, team mascot Hooper, the Extreme Team and
the Motor City Cruise mascot Turbo danced as Pistons Pride-themed merchandise was given to the
parade-goers.  

"I love to see big local brands like the Pistons supporting the LGBTQ+ scene," parade attendee Sara
Kauten said. "It makes me feel very local and supported by my local community."  

For similar efforts and the integration of LGBT-owned businesses in marketing, the Detroit Regional
LGBT Chamber of Commerce honored the Pistons as the Corporation of the Year at its annual COLOURS Pride Awards Gala in June of 2022.    

The Pistons concluded their monthlong Pride recognition by partnering with  Affirmations and Free Mom
Hugs of Michigan to help host the second annual Pride Prom at the Ringwald Theatre in Ferndale. The
Candy Land-themed prom is meant to provide a safe space for LGBTQ+ youth to express themselves
authentically. Pistons team members volunteered, donated food and other party necessities.  
 
The support was definitely noticed by Collins, who played 13 seasons as a center and power forward in
the NBA.  
 
"I just wanted to say how proud I am of the Detroit Pistons organization," Collins said. "On behalf of the
NBA and NBA family, thank you."