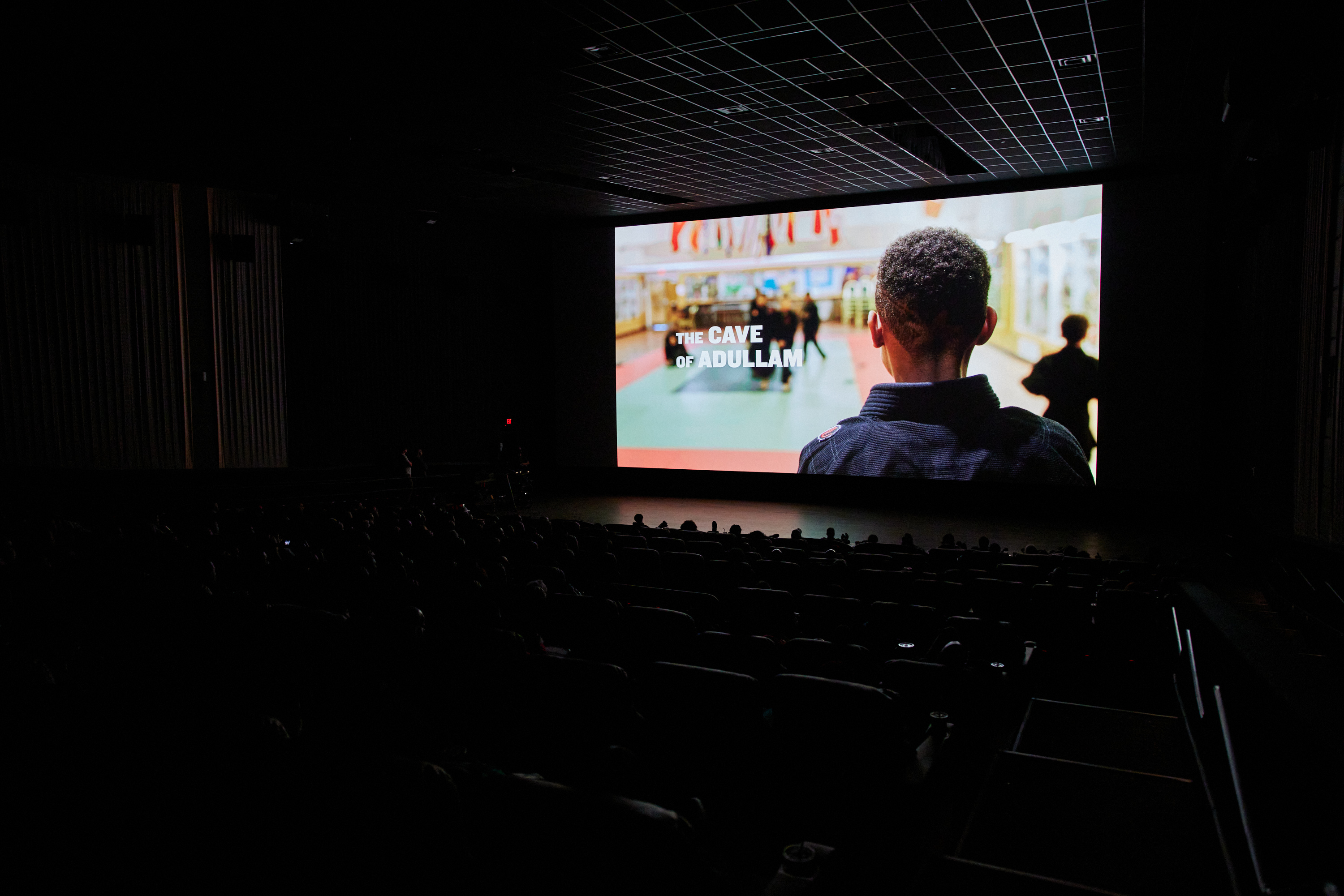 November 18, 2022 | Articles News
Why Detroit Pistons owner Tom Gores rolled out the red carpet for the screening of The Cave of Adullam documentary
In 2008, Detroiter Jason Wilson developed a martial arts training program called The Cave of Adullam.
The program is geared to help young Black males better navigate the pressures of everyday life and control negative emotions.
That's how Wilson describes the program that's receiving worldwide recognition, which includes the production of an award-winning documentary chronicling Wilson's work.
Wilson and The Cave of Adullam are the subjects of the documentary that's currently streaming on ESPN+. Executive produced by Detroit Pistons owner and Platinum Equity founder and CEO Tom Gores, the short film took first-place honors in the best documentary feature category at the prestigious Tribeca Film Festival earlier this year. Also executive produced by Academy Award nominee Laurence Fishburne, the documentary premiered on ESPN on Oct. 16.
"There are so many stories of transformation being written every day in Detroit, and it's important to amplify them to show the world the true spirit of our community," Gores said. "The lessons in The Cave are vital for young men, their families and their educators."
"Laurence's vision for Jason's story deserves the industry accolades its receiving. I'm proud to be part of this film and to use our platform to support the work Jason is doing to be impactful."
On the same day as the ESPN premiere, Gores arranged for a red carpet celebration at the Emagine Theater in a Detroit suburb that was attended by Wilson, students from the martial arts dojo, parents, Pistons legends and executives, and Detroit-based hip hop star Royce da 5'9. Earlier that week, Gores invited Wilson to Little Caesars Arena where he was joined by family and his students in watching an NBA game from Gores' personal courtside seats.
"I'm so thankful to Tom Gores because we wouldn't have had this opportunity without him," Wilson said after the screening. "For the boys to experience this type of excitement, to be on camera, to actually see themselves on a big screen, not just on ESPN, on their phone or a tablet or TV, but to see the awe in their eyes and see this is a chance to share with the world what I'm going through and how they too can make it."
Wilson attended the Tribeca screening, but the showing in his home area was special because he was surrounded by family and friends.
"Looking down the aisles and seeing everyone crying or laughing, it moved me in a different way because I saw the importance of what I do for the community and hopefully even the world," Wilson said. "It was sobering at times because you would think that what you do really won't make a big difference. But when you can actually see so much of your hard work on the screen and then you look next to you and see people moved so emotionally that they could find themselves in what you do, that confirmation means so much."
When Wilson started his dojo, which is now located in a northwest Detroit neighborhood, he says he thought young males needed more discipline, but quickly realized what they needed was more love. The film introduces us to four young Detroit students who are struggling with difficult issues. Through his guidance, Wilson helps each of them confront their anger and fears.
One of the film's subjects, Gabriel Davenport, attended the premiere. The documentary details his anger over a father who is incarcerated. Filmed over several years, he looks back at the time and says Wilson's guidance was instrumental in assisting him in developing a relationship with his father.
"Really our goal is to repair broken men, repair broken boys," Davenport said. "I was one of those broken boys. There's multiple broken boys out in this world, so that's the goal and I want to push it as much as we can. So if ESPN is the way to do it, let's do it that way."
Former Pistons players Grant Long and Earl Cureton were in attendance at the screening and both said they were moved by the documentary.
One moment stood out for Long, who is also an NBA analyst on Bally Sports.
"It's when somebody said in the black community people wear their adversity or wear the bad things that happened to them as a badge of courage," Long said. "That shouldn't be the case because everybody goes through adversity, particularly in the black community."
"This film showed us it shouldn't be a badge of courage. It should be a steppingstone to learn how to get out of it or even break that curse or generational curse of stressful things happening. We all go through stress, but you don't have to wear it as a badge of courage. You move past those things and learn how to deal with them because it's not something that you're proud of." To donate to The Cave of Adullam, please visit: savingboys.com/donate.