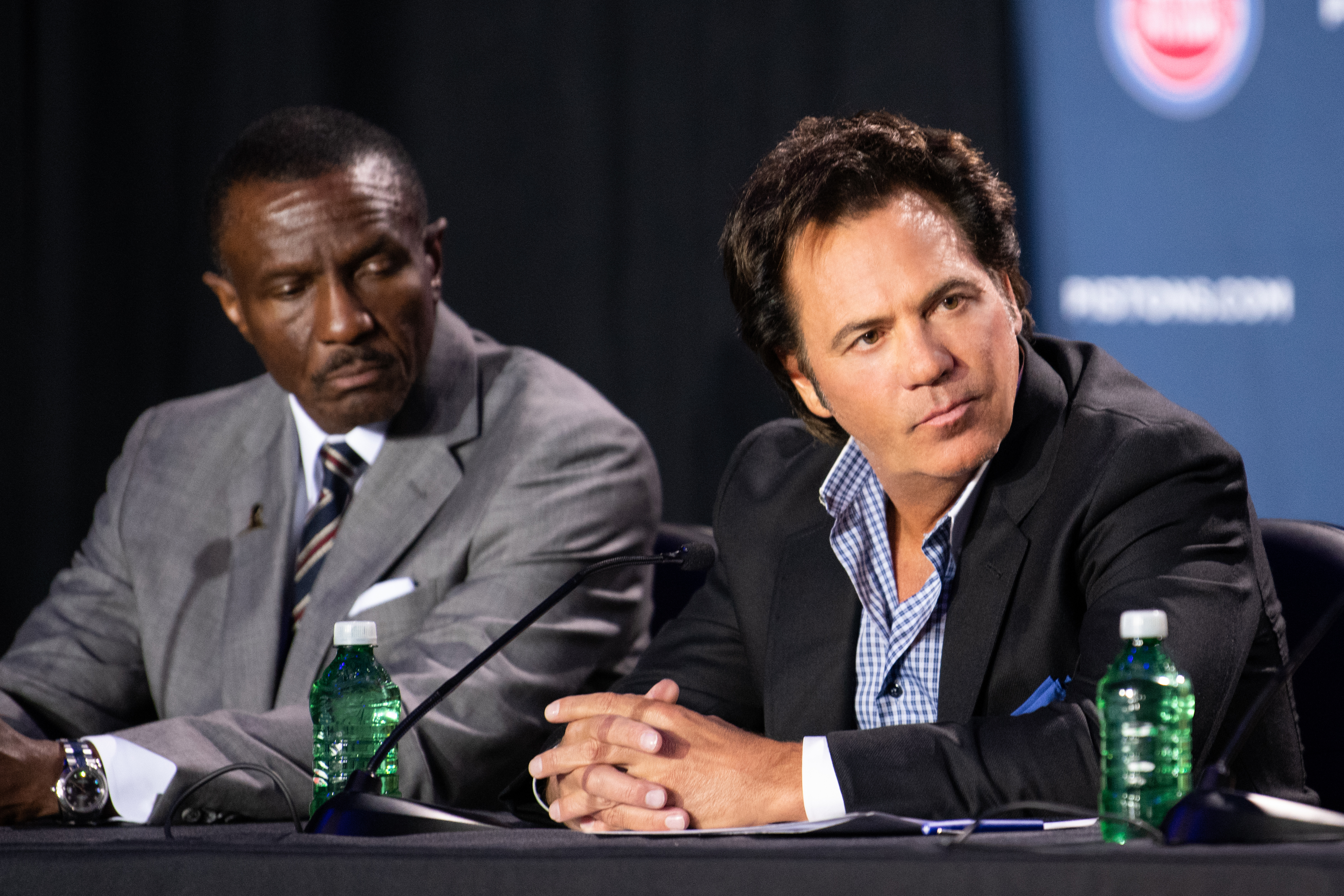 April 20, 2023 | News The Pistons
Why Detroit Pistons owner Tom Gores is welcoming his 'partner' Dwane Casey into the franchise's front office
Life in the NBA can be cold to those who devote their existence to the game of basketball.
Frequently, qualities like loyalty and positivity are secondary considerations behind wins and losses.
That's why former Detroit Pistons coach Dwane Casey's transition to the front office unique.
Casey, who started in 1981 as an assistant at Western Kentucky University, was able to end his coaching career on his own terms when he announced to reporters Sunday that he was stepping down to move into the front office. Casey made the announcement following the Pistons' season-ending road loss to the Chicago Bulls.
The outcome is probably surprising for outsiders who look at Casey's 121-263 record and one playoff appearance in five seasons with the Pistons. Casey was hired in the summer of 2018 to steer a veteran team – just before the franchise pivoted to rebuilding mode, which typically means acquiring young talent and lots of losing. But Casey adjusted and committed to developing the Pistons' young talent.
And when Casey, 65, and Pistons owner and Platinum Equity CEO Tom Gores started discussing the future toward the end of the season, Casey decided the timing was right to end his coaching career and begin the next phase of his work life with the support of Gores.
Before general manager Troy Weaver's season-ending news conference, Casey called Gores "a friend" and constantly shared his appreciation for how his coaching tenure ended before an overflow media contingent at the Pistons Performance Center on Tuesday afternoon.
"I appreciate Tom and and Troy allowing me to do it my way, to make my decision, and not throw me out with the bath water because it can be a cold business," Casey said. "I'm a big boy, and whatever they wanted to do, they had the right to do that.
"But it speaks to the class of Tom Gores. He lived up to his word. He said … we're going to be partners, and he's lived up to every word he said he was going to do."
Gores said in a release: "Dwane Casey has done everything we asked of him since the beginning of our partnership, both as a coach and a tremendous mentor and person. Our organization and the young men he has been leading are very fortunate to have had his guidance and support. We are grateful for his steady hand as head coach during these important development years, and we are excited to have his wisdom and experience in the front office as we enter the next phase."
Dwane Casey comes to Detroit
When Casey was hired as head coach in the summer of 2018, the Detroit Pistons were a veteran-laden team expected to challenge for the playoffs. Casey was coming off a successful stint as the head coach of the Toronto Raptors and was named the 2018 NBA Coach of the Year. But he was let go by the Raptors and Gores offered Casey the opportunity to continue his coaching career.
Led by All-Star Blake Griffin, the Pistons finished 41-41 in Casey's first season to earn the Eastern Conference's No. 8 seed.
But after Griffin's chronic knee issues flared up, the Pistons were forced to pivot to rebuilding mode in the coming seasons. Veterans were traded and after the Pistons hired Weaver in 2020, the rebuild was in full swing. Franchise goals turned to acquiring and developing young talent. A quick examination of current playoff rosters shows that youth isn't the path to NBA contention.
But as the losses mounted, Casey never wavered, maintaining a positive outlook as the Pistons' youngsters took their lumps over the last several seasons.
"When he came here, it was a totally different team," Weaver said. "They were marching in a different way, then injuries happened, things happened, and we had to change courses. That's not easy for an experienced, successful coach.
"What he did these last three years going through this restoring, I can't thank him enough."
Young talent shows growth
The next coach will inherit a promising young core, a credit to Casey's developmental work. One franchise cornerstone, Cade Cunningham, missed most of the season after surgery for a stress fracture in his left leg, but is primed for a major jump next season in his third year.
The two youngest members of the core – Jaden Ivey and Jalen Duren – showed tremendous growth this season under Casey's watch. The two rookies were invited to participate in the Jordan Rising Stars event during All-Star Weekend. The improvement was steady throughout the season.
Third-year forward Isaiah Stewart, another member of the young core, credits Casey for his early-career promise.
"Coach Casey had a huge impact on this group," Stewart said. "To have him as a first coach, it was a blessing. He knew how to work with us. He allowed us to make mistakes and play through them.
"To have that your first three years in the league, that's a blessing."
The Pistons job should be attractive to potential coaches. The young core will welcome another top-five pick in June after the NBA Draft and with salary cap space, the team has financial flexibility for free agency or trades.
"I just want somebody that's going to be passionate about it and someone that's going to push us and hold us accountable," Cunningham said.