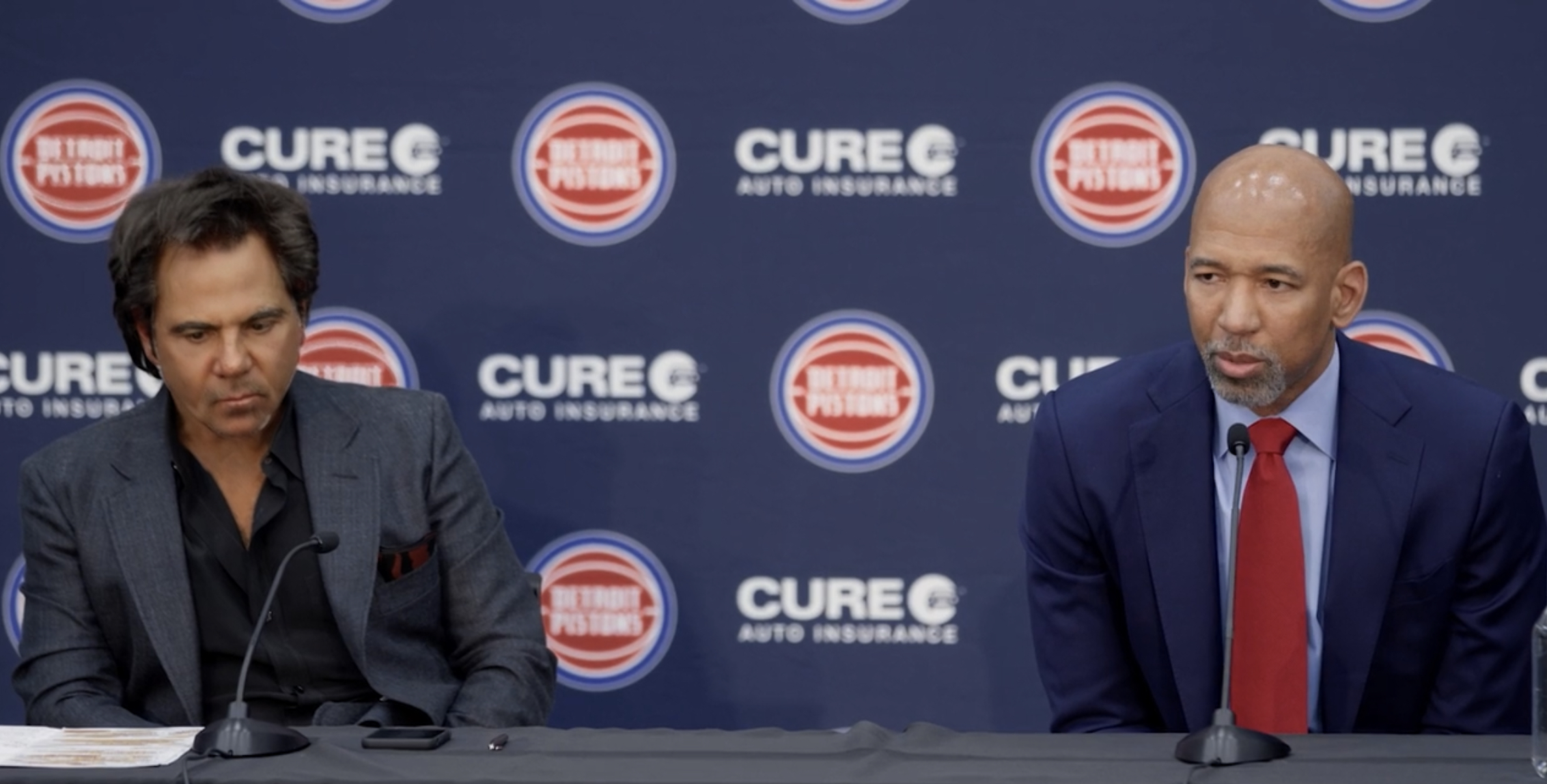 November 21, 2023 | Chairman's Q&A Homepage News The Pistons
Why Detroit Pistons owner Tom Gores believes franchise has built solid foundation
DETROIT – Monty Williams wasn't expecting the text representing another chance at the Detroit Pistons coaching job.
After explaining to Pistons general manager Troy Weaver earlier that family obligations would be the primary focus after his four-year stint coaching the Phoenix Suns had ended, he figured the organization would move on in its coaching search.
But while he was in Colorado Springs for Team USA U16 tryouts with his son, Elijah, who is one of the top sophomore basketball players in the country, Weaver texted Williams to gauge his interest once again.
"I was at a camp with my son and (Troy) said, 'We understand your situation and we want to be respectful of that, but our owner wants to talk with you and have you understand this is something that we're pretty serious about,'" Williams said at Pistons Media Day in early October.
That initial text and follow-up conversation led to a fateful meeting at the home of Pistons owner Tom Gores, a meeting that set the stage for the franchise to land one of the top coaching names in the NBA.
The presence of Williams, who led the Suns to the 2021 NBA Finals and was named the league's Coach of the Year in 2022, and the return of Cade Cunningham, who missed most of last season with a leg injury has led to a sense of confidence as the Pistons open the season Wednesday night at the Miami Heat.
Throw in the addition of promising rookie Ausar Thompson to the collection of youngsters like Jalen Duren, Jaden Ivey, Isaiah Stewart and others, there is an expectation that the days of being one of the worst teams in the league are over.
That is likely what led Gores to tell the team in August that the pieces are in place for the Pistons to start rising up the Eastern Conference standings.
"We have a foundation, we don't have to rebuild anything," Gores said at the annual team gathering he hosts at his Malibu home. "There has been pain, but Troy has done a good job rebuilding this, and the reason Monty is here is that he believes in our players. He really understands what we have.
"You know what we're doing now? We're building. We're not rebuilding because we have a foundation."
The words resonated. Both Weaver and Williams cite the players' talent as well as the collective work ethic and spirit.
"There were many selling points," Willams said. "I think the thing that stuck out in my mind was the character of the locker room. Troy said, 'I'll put our locker room up against any locker room in the league.' Everybody can't say that. I think when you have good guys, you don't have to motivate them, you don't have to push them to do the right things. To have guys that love to work, love to be around each other, push each other, I think that's an essential for anybody."
'That was all Tom's pushing and prodding'
Williams wasn't available when former Pistons coach Dwane Casey announced after the final game of last season that he was ending his coaching career.
The Suns finished the regular season at 45-37, which earned the Western Conference's fourth seed. After the trade deadline acquisition of superstar Kevin Durant, the Suns were considered one of the favorites. But after the Suns fell in the second round of the NBA playoffs to the Nuggets, Williams was fired.
But he was immediately a top coaching free agent. Williams had a nearly 63 percent winning percentage during his Suns tenure, and led Phoenix to the 2021 NBA Finals. A year later, after leading the Suns to a 64-18 record, he was named the NBA Coach of the Year.
Weaver immediately reached out to Williams (the two men worked together in Oklahoma City), but he said he was strongly considering taking the year off because his wife had recently been diagnosed with breast cancer.
The Pistons continued their search and zeroed in on other candidates, but Gores suggested the Pistons retain optionality and ultimately it was decided to make another run at Williams. Early signs were positive with the cancer diagnosis, so Williams and his family decided to listen to the pitch.
Gores acted fast, instructing Weaver to engage with Williams. Gores offered to dispatch his private plane to Phoenix that day if Williams was amenable to a meeting. He was on a plane to L.A. from Phoenix by that afternoon, and the two men met at Gores' southern California home.
Williams brough along two of his six kids and they bonded with Gores' daughter, Amanda.
The two men immediately hit it off, bonding over their experiences – Williams' rise through the coaching ranks as a former NBA player and Gores' founding of private equity firm, Platinum Equity. Gores gave him a tour of his home.
"I've been to a lot of nice places in my life, just because the NBA afforded you that," Williams said about that evening. "But I told my agent, my kids, that I'm a country kid from Virginia and I grew up in Prince (Va.) County. This doesn't happen often for people like me. I can't even describe it, I'm so country. I've been to a lot of nice places, but I don't think I've ever experienced that kind of environment that was for me and my family.
"(Gores') place is on a different level. All the furniture and all the stuff that they had in the house, you could tell there was a lot of detail, care, but it still had a family feel to it that had a huge impact on me."
By the time the meeting ended, there was a path forward. Gores personally offered private jet travel and added health care benefits if needed for Williams' wife.
"It was just one of those nights that allowed for us to be real," Williams said at his introductory news conference. "To be honest with you, I committed that night. I told them that if everything worked out with my wife, this was the place that I wanted to be."
Shortly afterward, an agreement was reached, and Williams was on his way to becoming the 37th coach in franchise history. Williams agreed to a six-year deal, a lucrative deal which reportedly makes him one of the highest-paid coaches in the league.
"It was a great process," Weaver said. "Tom really pushed the group, and he pushed me to make sure we turned over every stone. In turning over every stone, we were able to land a coach, a good person in Monty Williams. That was all Tom's pushing and prodding the group to make sure that we looked at everything and challenged our process. It was tough, it was exciting and we're excited where we landed."
Cunningham's return, Thompson addition fuels Pistons optimism
It was late in the second half of Thursday night's exhibition game against the Oklahoma City Thunder when Killian Hayes received a pass from Cunningham on the right wing.
On the left wing, Thompson raised his left hand and raced toward the hoop.
Hayes spotted his teammate and arced a pass toward the rim that seemed too high for Thompson.
But Thompson showed off his supreme athleticism, soaring above the rim to easily catch the pass with his right hand for an easy dunk.
A few possessions later, Cunningham found Duren for an alley-oop dunk that forced a Thunder foul. Pistons teammates jumped from the bench in excitement.
It was only two possessions, and it did happen in the preseason, but it was a display of the young talent on the Pistons roster. The oldest of the four players mentioned is Hayes, who is entering his fourth season and just turned 22 this summer.
Williams inherits a team that finished with a league-worst 17-65 record. His hiring came just over three weeks after the franchise suffered a gut punch when the lottery dropped the Pistons down to fifth in the NBA Draft selection order. The Spurs won the right to draft French big man Victor Wembanyama, the most-hyped prospect since LeBron James went No. 1 overall to the Cleveland Cavaliers in 2003.
But the Pistons will see the return of Cunningham, the 2021 No. 1 overall pick, who played only 12 games last year after surgery on his left leg. Cunningham is healthy and had a strong summer. He was impressive as a member of the Select Team, which is comprised of young prospects, in scrimmages against Team USA during the preparations for the FIBA World Cup competition held in the Philippines.
Playing the role of Dallas Mavericks superstar Luka Doncic, who plays for the Slovenian national team, he displayed the all-around game that allowed him to have a stellar rookie campaign during the 2021-22 season.
"You saw glimpses of how good he is, and you can also forecast how good he can be at this level," Williams said before the start of training camp. "Just being in the gym with him, I've been really impressed with his level of coachability. Doesn't matter what coach he's with or what drills he's doing, it's almost like he's still in high school when he's out there."
Despite the optimism, everyone knows there is still a lot of work ahead. The Pistons roster has an average age of 24, and it's typical for the legit title contenders to feature veteran-laden teams.
But there is confidence that when the Pistons eventually return to the playoffs (the last appearance was in 2019), the pieces currently on the roster will lead the way.
"Everybody can feel it," Pistons center Marvin Bagley said after a recent practice. "You can feel the different energy. I feel like positive seeds are being planted right now, and now it's our job to continue to water the seeds and make sure they grow every day."