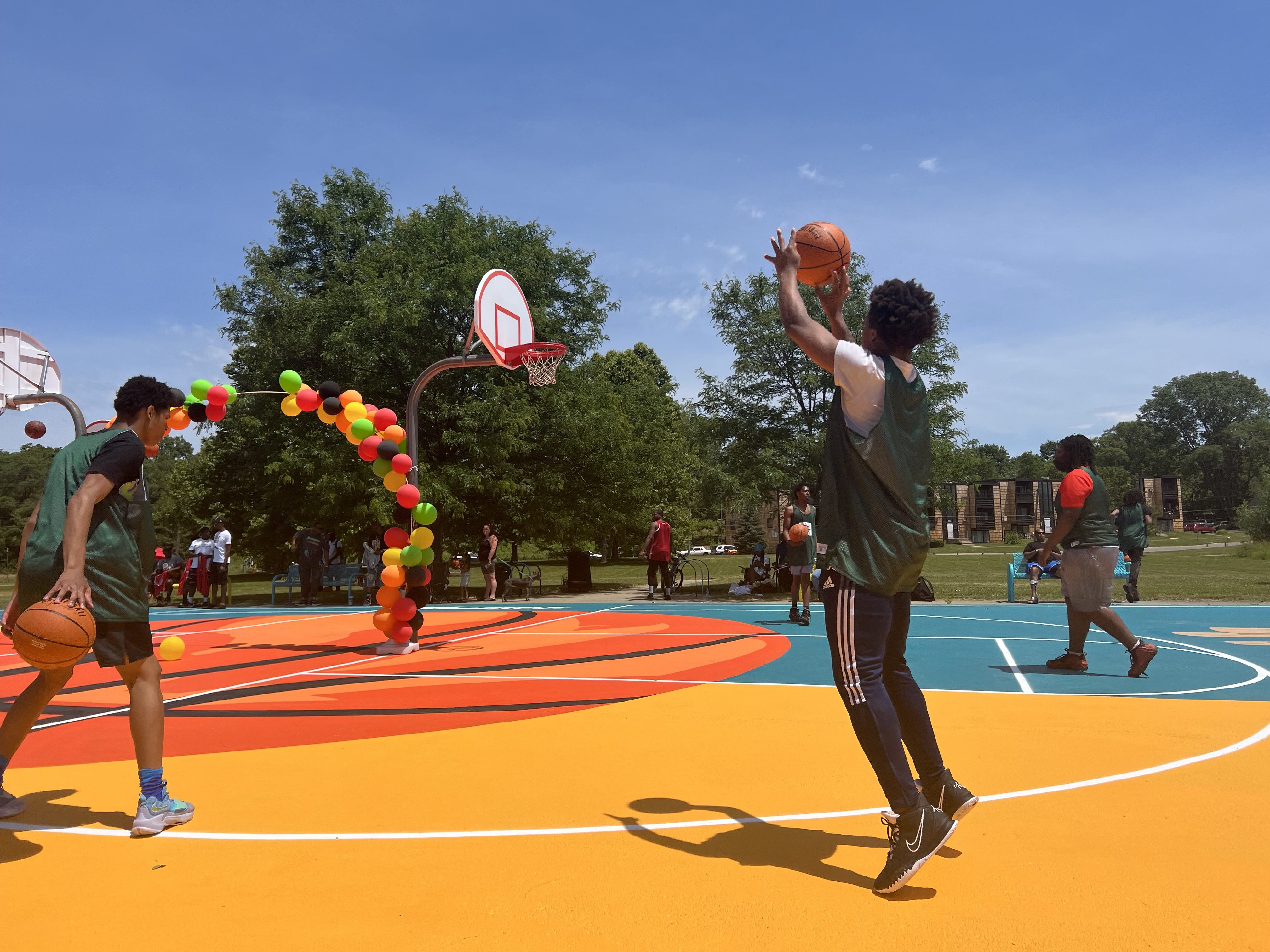 June 22, 2022 | Articles Philanthropy
Tom Gores' FlintNOW unveils 'bright, vibrant' refurbished basketball court as part of Juneteenth celebration
FLINT, Mich. — Youth advocate Shareka Howard remembers when the Windiate Park basketball court was riddled with large cracks.
Now, those cracks are repaired and covered by a freshly painted mural, a testament to Howard's dedication to create a safe place to play for Flint children.
The mural was unveiled Sunday during a ribbon-cutting ceremony, the finishing touch on the first of three Genesee County-area park renovations sponsored by Platinum Equity CEO Tom Gores' FlintNOW Foundation. The nonprofit is partnering with the Genesee County Parks & Recreation Commission and Flint native Jamiersen Green on the renovations.
"I've always believed the most impactful solutions come from people on the ground, in the community working together to make a difference," said Gores, who also owns the Detroit Pistons. "The tireless efforts of residents to provide safe spaces for kids are truly admirable. I'm proud we could bring everyone together and leverage their vision and creativity to make Windiate Park a vibrant place for children to play."
The Windiate Park renovation was completed over the weekend, and neighborhood residents came out to watch the ceremony, which occurred on Juneteenth. It was attended by representatives from FlintNOW, the Pistons, Genesee County, Green's Leader Quality organization, and Howard's Helping Hands group.
"With the help of Jamiersen Green, the Detroit Pistons, and Platinum Equity coming together it has created the park we always wanted," Howard said. "We wanted our park to be really bright, vibrant, and welcoming to everyone. We have more of a family-friendly, open, and eye-catching park for everyone."
Creating a safe space
Howard's Helping Hands adopted Windiate Park in 2014. The goal was to make the once vibrant park a safe place for children to play. Over the years, Howard's Helping Hands has worked tirelessly to provide sports training camps, co-ed flag football and other programming.
Now basketball players can play on a mural featuring teal, red and yellow to represent the Pistons' history and the Flint community. Green, an artist, said during the ceremony he wanted to transform the court into a celebration of collaboration, transformation and unity.
"One thing about Flint is that we've been through adversity, we've been through ups and downs," Green said. "One thing that we always do is come together and one thing that has always brought us together is basketball. The sport of basketball has always kept this community together."
The ribbon-cutting ceremony included a DJ and children's activities with a bounce house close by. A basketball tournament followed. Pistons mascot Hooper and the Pistons Dancers were also on hand. More than 100 community members participated in the ceremony.
"This project is exactly what the Pistons and FlintNOW are about; we're about partnering with local community organizations that are doing amazing work and finding ways to amplify what they're doing," Detroit Pistons vice president of community and social responsibility Erika Swilley said. "Learning about Shareka's work, we were able to provide resources for her and be able to make this court a vibrant, safe space for kids."
Funding for the three park projects is provided in part by a $100,000 grant from the FlintNOW Foundation. In addition to the mural at Windiate Park, courts at William Durant Park and Riverside West Park will be resurfaced and rehabilitated over the next 18 months.
"Community voice and equity are the driving forces in the work that we do, and this collaboration put those factors front and center," Genesee County official Nancy Edwards said. "Windiate Park represents so many things, but unity, transformation and hope are the main ingredients, and the new court design brings those elements to life."
Gores, who grew up in Flint, established FlintNOW to provide private sector support for immediate relief efforts during the Flint Water Crisis and for long-term programs focused on economic development, nutrition and health care for residents of the city. FlintNOW partnerships include a $2 million pledge from Tom Gores and Consumers Energy to start the Flint Promise scholarship program, a $25 million economic development program launched with Huntington Bank, a healthy foods initiative created with the National Basketball Players Association and Michigan State University-Hurley Children's Hospital Pediatric Public Health Initiative, and other campaigns that have provided millions of dollars in support to local Flint charitable organizations.