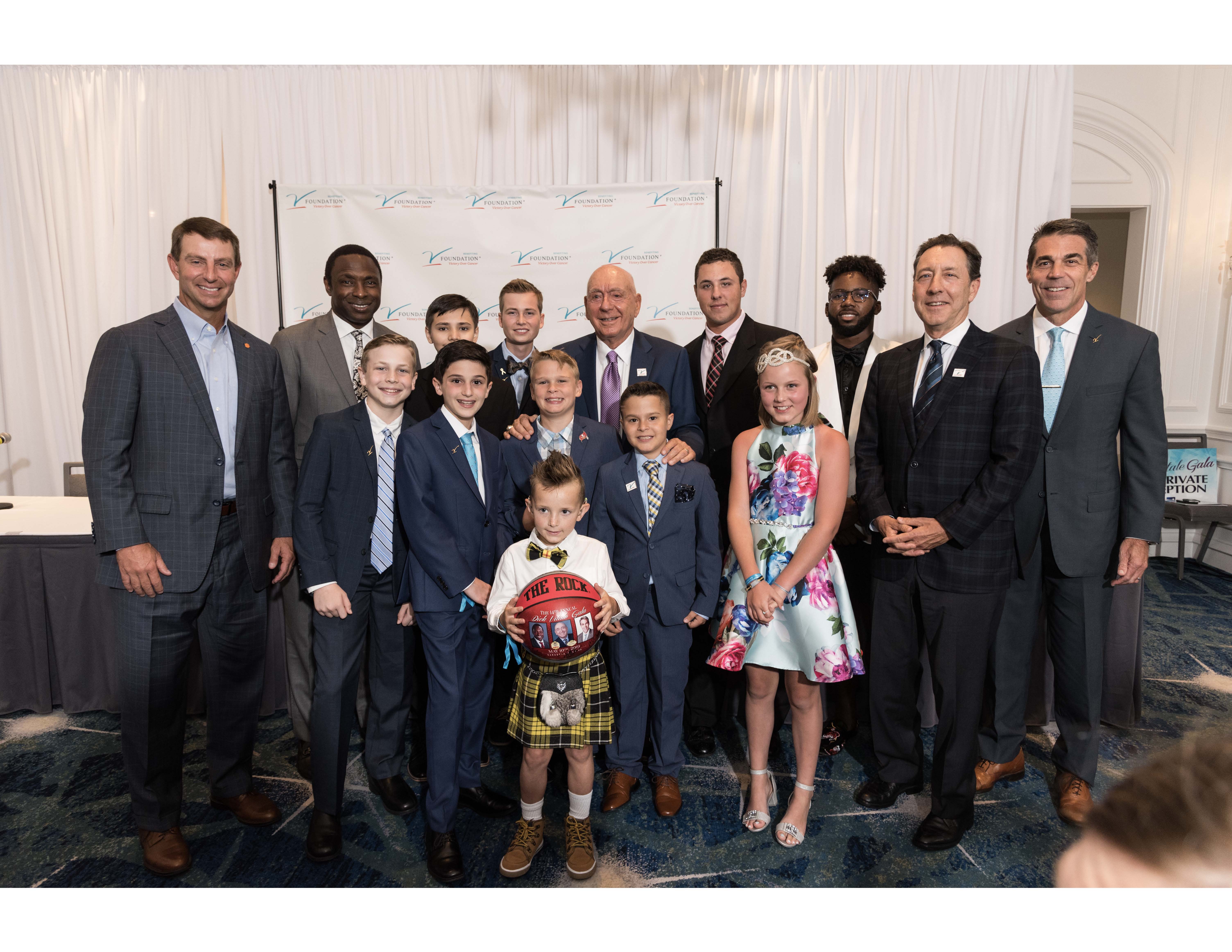 May 9, 2022 | Philanthropy
Tom Gores Family Foundation donates $500,000 to V Foundation, Dick Vitale for pediatric cancer research
V Foundation and Dick Vitale receive $500,000 donation for pediatric cancer research from the Tom Gores Family Foundation
(Sarasota, FL)— The Tom Gores Family Foundation bestowed a major gift of $500,000 to the V Foundation for Cancer Research, to be directed to the Dick Vitale Fund for Pediatric Cancer. The V Foundation is one of the nation's leading cancer research funding organizations. The donation will fund critically needed pediatric cancer research nationwide. To date, the Dick Vitale Fund for Pediatric Cancer has awarded nearly $60 million to end pediatric cancer.
"I am overwhelmed by the generosity of Tom Gores, Detroit Pistons' owner, as his major donation of $500,000 is going to play a big role in pediatric cancer research," said Vitale. "It is time that the pediatric oncologists get the funding needed to develop new medicines and treatments to help children win this battle. We are so grateful that Tom has joined our team and extended a hand to us in this worthy cause."
Tom Gores is founder, chairman and CEO of Platinum Equity, headquartered in Beverly Hills, Calif., with offices throughout the US and internationally. Gores' philanthropy has touched many organizations nationwide benefiting children and their communities.
"Dick Vitale's relentless pursuit to aid in pediatric cancer research, while courageously battling the disease himself, is inspiring. My wife, Holly, and I are honored to be a part of a basketball community who comes together to make an impact on the lives of others, and Dick's work with the V Foundation represents the epitome of impact," said Tom Gores. "We hope our support can aid families battling pediatric cancer by continuing the research needed to fight this disease."

"What an incredible gift from the Tom Gores Family Foundation," said Shane Jacobson, CEO of the V Foundation. "We are grateful for this generous donation that will support the very best in pediatric cancer research. Children facing cancer endure a terrible burden, and the need to improve treatments for them is urgent. This donation will ensure we move research forward, improving and saving the lives of our youngest patients."
Dick Vitale has held an annual Gala in Sarasota for the past 16 years. For information about the Annual Gala, please contact Mary Kenealy Events Gala Office at 941-350-0580 or visit dickvitalegala.org. To make a donation, please visit v.org/vitale.
About the V Foundation for Cancer Research The V Foundation for Cancer Research was founded in 1993 by ESPN and the late Jim Valvano, legendary North Carolina State University basketball coach and ESPN commentator. Since 1993, the Foundation has funded more than $290 million in cancer research grants nationwide. Event proceeds benefit cancer research funded by the V Foundation. The Foundation awards peer-reviewed grants through a competitive awards process strictly supervised by a Scientific Advisory Committee. For more information on the V Foundation or to make a donation, please visit v.org.
Media Contact: Mary Kenealy
mary@marykenealyevents.com
941-374-6026