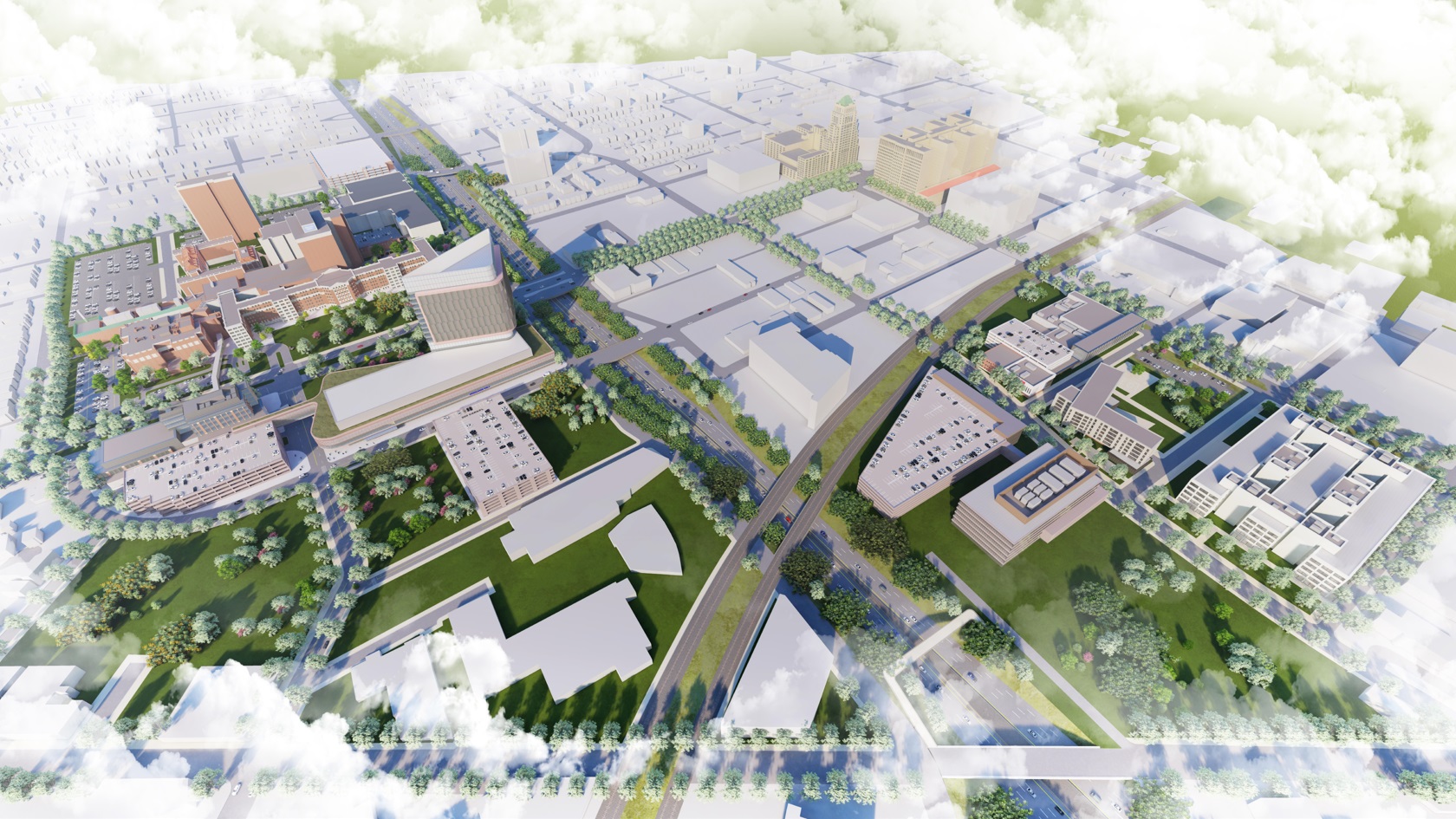 February 15, 2023 | Business
Platinum Equity CEO Tom Gores to Crain's Detroit: Our development efforts 'based on a lot of collaboration'
Shortly before a news conference to announce a $2.5 billion investment in the city of Detroit, Platinum Equity CEO Tom Gores revealed to Crain's Detroit Business that substantive "community development really focuses on the conditions in an environment for people to be successful."
The comments came shortly before a recent news conference in Detroit where Gores, Henry Ford Health, the Detroit Pistons and Michigan State University announced plans to invest $2.5 billion over the next decade into the New Center neighborhood, which is located north of downtown Detroit. The goal is to create a vibrant, walkable community that will attract residential, commercial, retail, recreational and health care components.
The development will be anchored by Henry Ford Health's $1.8 billion major expansion of Henry Ford Hospital. It will also include a new medical research facility for Henry Ford Health and Michigan State University Health Sciences, which is part of Henry Ford Health's 30-year partnership with Michigan State.
Gores, who acquired the Pistons in 2011 and was raised in Flint, Mich., will develop more than 500 units of nearby housing units with a percentage of the inventory devoted to needed affordable housing.
The news is the latest example of Gores' commitment to Detroit. After Gores' decision to return the franchise to the city of Detroit, the Pistons partnered with Henry Ford Health to build the $137 million Henry Ford Detroit Pistons Performance Center, which opened in 2019. Gores has also established substantial philanthropic relationships with multiple Detroit organizations and nonprofits and earlier this year, Gores and the Pistons announced plans to build a $20 million 25,000-square-foot community center in Rouge Park on the city's west side. The center is expected to be finished in 2024.
The Crain's interview touched upon many topics with Gores giving insight into why he has long called the Pistons a "community asset."
"Sports teams have a unique ability to unite people of widely different backgrounds and interests," Gores said. "We recognized from the beginning that owning a sports franchise carried with it certain responsibilities to protect people's memories and nurture their pride for their team and their city. We saw an opportunity to turn that pride not just into a rooting interest for the team, but as a rallying point for community development. We're uniquely suited to be a catalyst for building a stronger and better community."
Here is a sampling of what others said on the $2.5 billion announcement:
Henry Ford CEO Bob Riney told Crain's Detroit: "All of a sudden Jupiter aligns with Mars. You've got our needs for the mission, you've got an incredible partnership that we have formed with the Pistons, who share the same values about Detroit and being part of the economic vitality (of the city). And then you bring in the education and research component from Michigan State to the table. All of a sudden you see, boy, three times three is going to equal 10 or 12."
Gores told WXYZ-TV Channel 7: "When we acquired the Pistons more than a decade ago, our vision was larger than simply owning an NBA basketball franchise. I viewed this from the start as a 'community asset' that was uniquely positioned to participate in the continuing reinvention of Detroit and to be impactful in the lives of its residents. Our plan in Detroit has focused on bringing people and organizations together and creating meaningful partnerships that accelerate growth, create opportunity and contribute to the revitalization of the city," he said. "We are uniquely positioned and fortunate to have our partners at Henry Ford Health support the reimagination of our shared neighborhood, which will create jobs and housing for a new generation of Detroiters." Pistons vice chairman Arn Tellem told the Detroit News: "We couldn't be more excited to transform our neighborhood into a vibrant community. It was a critical part of moving the business franchise back to Detroit, where we belong, and we are not just to play games here, but to build a home here and embed ourselves in the community."