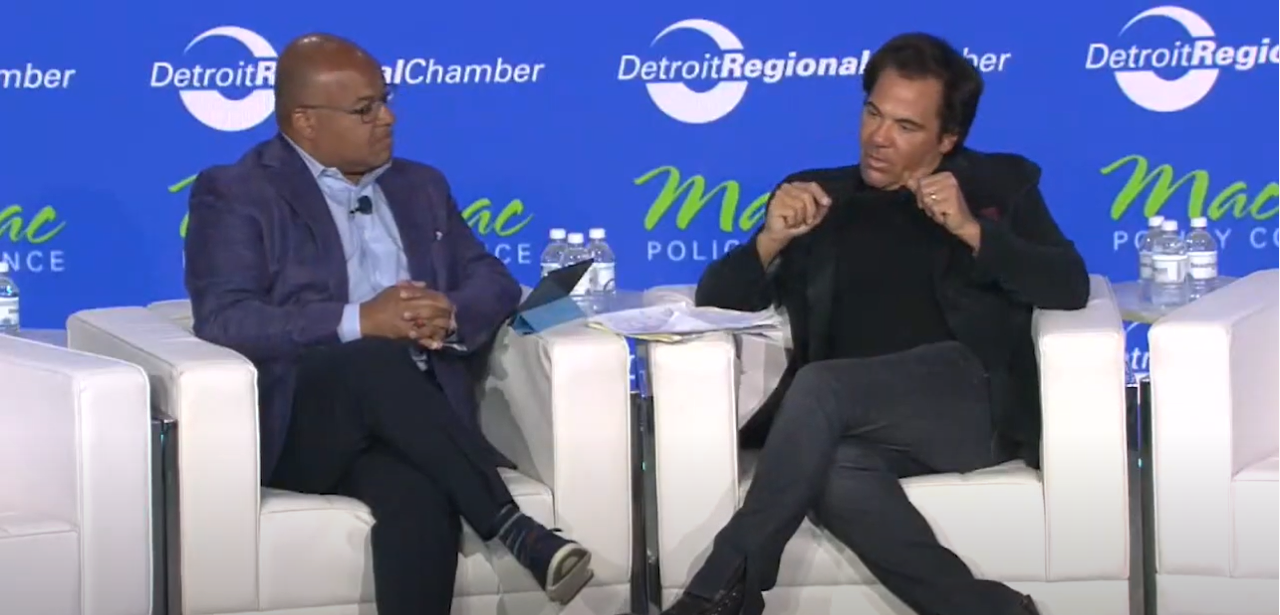 June 10, 2022 | Articles News Philanthropy
Platinum Equity CEO Tom Gores pledges $100 million to build national charitable organization during appearance at Mackinac Policy Conference
During Q&A session with NBC Sports broadcaster Mike Tirico, Gores discusses Platinum origins, civic engagement, diversity goals and philanthropy: 'We're just scratching the surface'

MACKINAC ISLAND, Mich. – The chat began with a light-hearted exchange expressing hope the Detroit Pistons reach the NBA Finals in the near future.
It ended with applause from an audience impressed by a promise to do more to help society.
In his first appearance at the annual Mackinac Policy Conference, Platinum Equity founder and Pistons owner Tom Gores pledged $100 million to form a national charitable organization. Gores made the announcement toward the end of a nearly 40-minute conversation with Emmy-award winning NBA Sports broadcaster Mike Tirico.
"I really want to have an organization like Platinum that … handles problems," Gores said to cheers. "Now, I'm really thinking about the future, and one of the things that concerns me about the future is that I feel like in our world, we are controlled by crisis. And while we are controlled by crisis, we don't explore opportunities."
Gores' chat with Tirico was one of several featured sessions at the Michigan-based conference, which also welcomed notables like Michigan Governor Gretchen Whitmer, U.S. Secretary of Transportation Pete Buttigieg, Detroit Mayor Mike Duggan, Pulitzer Prize-winning author John Meacham, Los Angeles Clippers owner Steve Ballmer, Miami Dolphins owner Stephen Ross and many other sports celebrities, business leaders and elected officials. After his session, Gores briefly chatted with Whitmer.
More details on the charitable organization will come later and the announcement follows Gores' $20 million commitment to build a community center in Detroit. The pledges were well-received at the Detroit Regional Chamber-sponsored conference devoted to discussing public policy.
During his chat with Tirico, with his wife, Holly, and daughter, Catherina, seated among the audience at the Grand Hotel Theatre, Gores discussed the origins of Platinum, the changing roles of business during polarizing times, the Pistons' community engagement and the need to do more.
(Questions and answers have been edited for clarity and length).
Tirico: Why do you feel like this is your calling at this point in your life?
Gores: I was blessed enough to be successful. I grew up in Michigan. I was born in Nazareth, Israel. I came over when I was four, went to kindergarten, and I barely spoke English. It's really not a matter of want to, it's just the responsibility. The thing that excited me as a kid, was if I ever had a chance to help people, that was a big deal. It's my responsibility. There's a lot to do.
Tirico: When you see the marches happening after George Floyd, go back to your words 11 years ago about the (Pistons being a community asset). That community thing doesn't always come through when people own sports teams, but you really get a feel for that, and you connect to your players. It's not just a Tom Gores thing; it's a Detroit Pistons organization thing.
Gores: The only thing I can think of is to not let you guys down, not let the city down. They supported me in becoming an owner of the Pistons, and I have great responsibilities. Watching it, as much as I absorbed all these things we've done, our thesis is connectivity, empowerment, all of this stuff. It's just like the company I built, Platinum Equity. At the same time, I have to say for all that we've done, we're just scratching the surface. We're not even close to doing what we need to do ultimately.
Tirico: The theme of the conference is the business community's changing role in polarizing times. How can we get everybody to hold hands and get along? How does that happen?
Gores: You have to establish common ground with everyone. We have to listen to each other. I've found that great people can misunderstand each other, and unless they talk and they listen, they don't really find out how to get to where they have to get to. We have to talk to about why. Why do you feel this way? Whether you're right or wrong, we have to engage with that voice and be open, otherwise we're fraught with misunderstanding. That's an important part of the culture. I run my company that way. I run my family that way.
Tirico: We talk about culture a lot in sports. It sounds good, but it's really hard to define. Before I ask you about culture with sports, I want to ask you about culture with Platinum, because what is Platinum? It's such a variety of businesses that Platinum touches. It's everything from games, Bingo cards to golf carts to a whole bunch of different things. How do you get one culture, or at least the seed for culture?
Gores: Culture is more than a feeling. It's the way you act. It's how you function every day, your processes, how you communicate with each other. Although I have all kinds of different people at Platinum, they're like-minded in a certain way. I love strong people, but if you are rude, there's really no room for it. Even if you get some results, the journey matters and how people feel matters.
Tirico: The topic of diversity has been in every boardroom, every conversation. How many people have somebody new in charge of Diversity Equity & Inclusion, an office that didn't exist four years ago?
Gores: I think diversity needs to be embraced. If you don't embrace diversity, you don't see other points of views, so I think diversity is good. Better decisions get made, more collaboration. We have to have a fair process. One of the frustrations out there is we use these words with no plan to execute on it, and there's nothing without execution.
Tirico: You're empowering players to be a part of the solution. What are the experiences in the empowerment part that carries from Platinum to the Pistons to your family foundation that are really starting to pay dividends in the Detroit community?
Gores: With the players as an example, after the George Floyd thing, we held a Zoom call. Everybody was upset about it, but we can't do everything from up here. I know where I am today, I'm not living on the ground every day. The players are, and they have, and they've been hurt, and they've been through tough situations.
Gores: I let them know that we wanted to do something, that I was not going to define it myself, but we were committed to do something to make more progress, and that we would like to engage them. They visited the site that we now have, and they dug in, and they're fully invested. Now it's theirs. It's not mine. I don't care about my name there. I care about momentum.
Tirico: I want to go back to you. You really had a vision, but you didn't know what it was necessarily. When you headed west, it wasn't with a destination in mind. Can you just go back to the story of how you made Platinum a reality?
Gores: I was 22, and I was just trying to build a software business. My dad had just passed away, and my dad's the architect of our family. My mom is the builder of our family. They really worked together well. My dad always told me: " I didn't bring you here now to stop. You have to keep going." It was both really sad for me, but also inspirational in that was his vision, and that's why vision is so important. Nine months later, I finally was in the car, and put a little music on, and it really just got me inspired. I needed to move to the West Coast to help build this software company. I met Holly probably six months after my dad died.
Tirico: Michigan State Spartans, both, right?
Gores: Yeah. Didn't meet there. She avoided me, I guess. I asked Holly if she wanted to go. We didn't know each other that well. She said yes, surprisingly, and we drove out. We drove out and got settled there, eventually moved my mom there, and then started Platinum in 1995.
Tirico: What a great story. For those who didn't see it yesterday, Tom and the Pistons had a great announcement about the community center, a $20 million project. This is the start, but I know from our conversations, this is not the end. What's next in your vision and your ability to leave a legacy here and give back?
Gores: One of the things that concerns me about the future, is that we are controlled by crisis. And while we're controlled by crisis, we don't pursue opportunity. In the next several months, I think probably by the end of the year, I want to create an organization. The community center is just the first of it. I'll personally put $100 million in for myself.