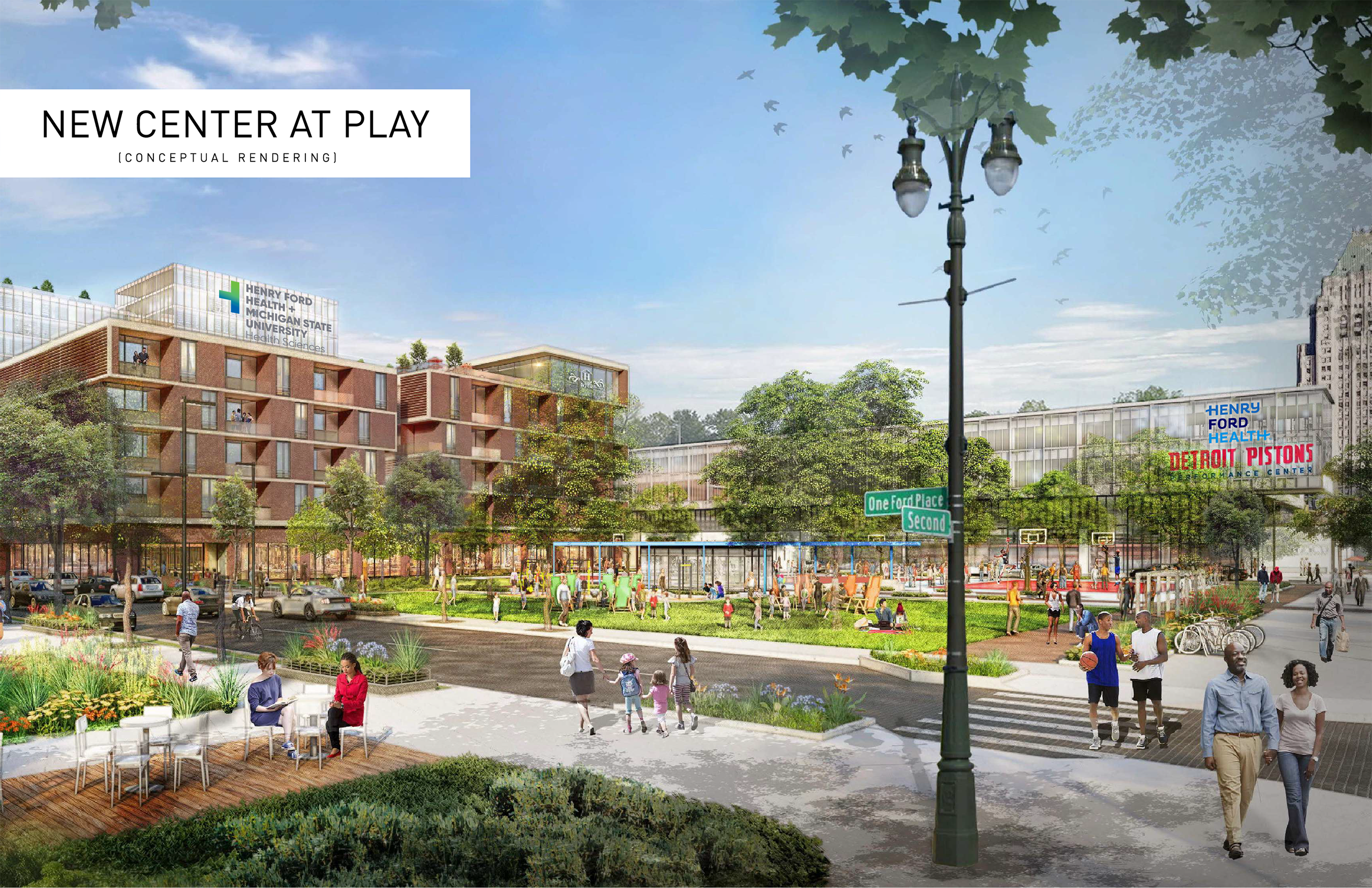 February 9, 2023 | The Pistons
How Tom Gores' decision to move Detroit Pistons downtown was unofficial catalyst to sweeping $2.5 billion development partnership with Henry Ford Health, Michigan State University
Detroit's New Center area is not a destination neighborhood.
But through a significant partnership between Platinum Equity founder and CEO Tom Gores, Henry Ford Health and Michigan State University, New Center could be on its way to being one of Detroit's premier neighborhood hubs.
At a Wednesday morning news conference at the Henry Ford Detroit Pistons Performance Center, Gores, Henry Ford Health, the Detroit Pistons and Michigan State University announced plans to invest $2.5 billion over the next decade into the neighborhood located north of downtown to create a vibrant, walkable community that will attract residential, commercial, retail, recreational and health care components.
The development will be anchored by Henry Ford Health's $1.8 billion major expansion of Henry Ford Hospital, which will include a new one-million-square-foot plus facility and patient tower. It also includes a new medical research facility for Henry Ford Health and Michigan State University Health Sciences, which is part of Henry Ford Health's 30-year partnership with Michigan State.
Gores, who owns the Pistons, will develop more than 500 units of nearby housing units with a percentage of the inventory devoted to needed affordable housing. The investment will bring jobs, and the idea is to create a neighborhood that will instill pride in employees who want to live close to where they work.
The plan is a significant expansion of the partnership between Henry Ford Health and Gores and the Pistons, who partnered to build the PPC, which cost $137 million.
"I'm interested in community development, not real estate development," Gores said. "All of our efforts are geared at developing vibrant, sustainable neighborhoods in Detroit. It's about creating an environment and conditions to give people and families the best chance for a good future and quality of life.
"It's about making people happy and impacting their day-to-day lives in a positive way, to help people in our community flourish and thrive. Growing up in Flint, I learned early the importance of opportunity, shared purpose and pride in your neighborhood and community."
Pistons vice chairman Arn Tellem, Henry Ford Health CEO Bob Riney, Michigan State interim president Teresa K. Woodruff shared the news with dignitaries and Detroit media outlets and all gave credit to Gores' display of vision and commitment when he decided to move the Pistons franchise back to the city of the Detroit, which was the unofficial catalyst for the new investment of the New Center area which has long been the home of Henry Ford Health.
"The reimagination of our healthcare campus in Detroit has been a long-held vision for us and we've taken exceptional pride in challenging ourselves – a quest to discover what's truly possible alongside our partners," Riney said in a release. "We've welcomed Tom Gores' 'big thinking' approach since the very start of our partnership. He's a great catalyst in stretching people's expectations and aspirations, and has really helped us drive a common mission and vision that will help us create something truly transformative for our patients and families, our communities, as well as the best team in healthcare."
Gores and the Pistons build partnerships
During his introductory news conference shortly after the acquisition of the Pistons in 2011, Gores stressed to reporters that the franchise was a "community asset" with the power to bring people together.
"This decision did not come easily," Gores said. "The closer in this particular situation was this community, I always thought I could make a difference. If it ends up a great investment for us, but it's not great for the community, I don't consider myself successful. We're not out searching for sports teams, but this is a situation that came together because we can make a difference."
Shortly after acquiring the team, Gores appointed Tellem to the position of Pistons vice chairman with a clear goal of forming partnerships with major Michigan stakeholders and jumpstarting the process of the franchise becoming a change agent in the southeastern Michigan area. Ultimately, Gores decided to move the Pistons back to downtown Detroit after nearly 30 years in northern Oakland County after Tellem and his team successfully negotiated terms with Olympia Entertainment to play games in Little Caesars Arena starting in 2017.
As part of the move downtown, Gores, the Pistons and Henry Ford Health announced plans to build a state-of-the-art basketball facility and locate Pistons headquarters in the New Center neighborhood. Gores called it "a groundbreaking alliance between two institutions committed to making a difference in Detroit." The PPC opened in October 2019 and is considered one of the best facilities in the NBA. Michigan-based grocer Plum Market and Planet Fitness are anchor tenants at the facility.
Gores and the Pistons have also partnered with Wayne State University to build a $25 million, 70,000-square foot basketball arena to house school's men's and women's basketball teams. The arena opened in 2021, and the Pistons' G League team, the Motor City Cruise, plays its home games there.
Gores gave his thoughts on partnership at the annual Mackinac Policy Conference earlier this year.
"You have to establish common ground with everyone," Gores told an audience of Michigan business leaders and policymakers. "We have to listen to each other. … We have to be open, otherwise we're fraught with misunderstanding. That's an important part of the culture. I run my company that way. I run my family that way."
Affordable housing is an important component
Riney said the hospital component will represent the largest single healthcare investment in the city of Detroit in the health system's history. The development, which could possibly later add a new hotel, plans to transform the section of New Center which currently houses the headquarters for both Henry Ford Health and the Pistons into a walkable, connected community infused with innovative mixed-income living spaces, retail and dining options and green space.
The addition of housing inventory is much needed. Affordable housing is an issue throughout the country and Detroit is no different. Axios Detroit reports, "the number of Detroiters who spent more than 30% of their income on rent (considered "cost-burdened") is on the rise since 2019 after falling since 2010."
For Tellem, who oversees Pistons business operations, it's about providing a livable place for the more than 300 Pistons employes and other area employers.
"Housing is a critical part for people to decide where to live and work," Tellem said. "For us, it's about bringing greater density to this area. It will be a catalyst for more investment and more development. Between our employees, our players, our coaches, our people that work in our business, all Henry Ford's employees, we may need to build more housing than we're planning, but his will certainly be a starting point.
"Part of Tom's vision is to provide affordable housing for people to be able to live here and work here that maybe can't afford a nice place in this area." Henry Ford officials say the hospital groundbreaking will occur next year, while the construction plans for housing are still being finalized.