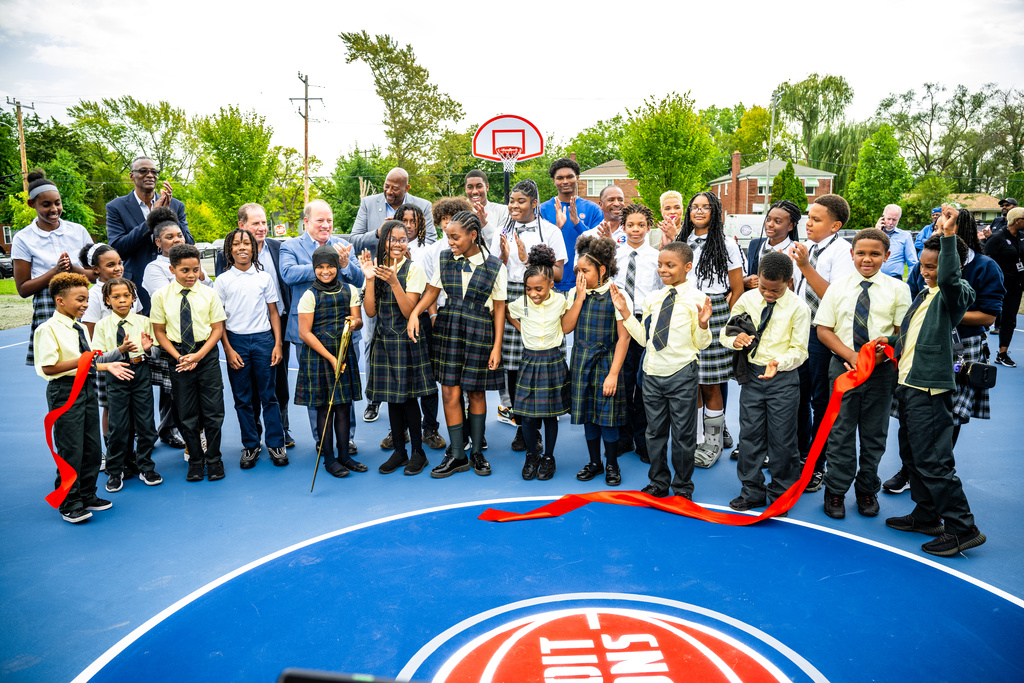 September 22, 2023 | The Pistons
Tom Gores' decision to move the Detroit Pistons back downtown sparked a $2.5 millioninvestment in Detroit's parks
DETROIT – With fanfare, the Detroit Pistons revealed a refurbished basketball court at Howarth Park on
Wednesday, which completes the organization's $2.5 million commitment to renovate 60 basketball
courts over six years.

Pistons vice chairman Arn Tellem was joined by Detroit Mayor Mike Duggan, Detroit City
Councilmember Scott Benson and students from Cornerstone Jefferson-Douglass Academy at the east
side park. Pistons players Jaden Ivey and Ausar Thompson were also in attendance.

As part of the community benefits plan between the Pistons and the Downtown Development Authority
when the team moved from Auburn Hills in 2017, the Pistons committed to the courts investment that
benefitted 44 parks. The Pistons-themed courts are also a major investment in the recreational activities
of the city's youth – a major pillar in Pistons owner Tom Gores' philosophy that the franchise is a catalyst for positive change for the city.

"Moving the Pistons downtown has been great for our franchise and for the city," Gores said in a
release. "We've created jobs, invested in the community and have helped serve as a catalyst for the
redevelopment of New Center (where the Detroit Pistons Performance Center is located).

"The courts program is one of several ways we're making sure the impact is felt beyond downtown in
neighborhoods all around Detroit. It's also an example of how you can exceed expectations by inspiring
people to work together."

Duggan thanked Gores and the Pistons organization for their continued support of the city as
community members and local media outlets looked on.

"You know where the Pistons used to play? It was called Auburn Hills," Duggan said. "You had to drive
an hour and then you got to that parking lot after the game ended, you were stuck in the parking lot for
an hour. And then you had to drive an hour back. Detroit wasn't connected with the Pistons up in
Auburn Hills at all.

"When the Pistons said they wanted to come down and be part of the city, they brought the jobs here
and then they said, 'How can we be in the neighborhoods?' A lot of folks haven't heard of Howarth Park,
but it's a big deal for the people who live around here."

In addition to fulfilling the courts commitment, the Pistons created a program to promote utilization of
the newly renovated courts. Established in 2019, the Pistons Neighbors Program recently completed its
fifth year providing free summer activities in 16 parks across the city.

"We have programming beyond just basketball," Tellem said. "We have dance, crafts, arts, yoga and
provide meals to the community so they use the parks and it's been a great joy to see the people taking
advantage of these beautiful parks that are across the city."

Gores has prioritized providing accessible, necessary resources within the Detroit community and
promoted further utilization of the city's parks since he purchased the franchise in 2011.
The sixth and final phase of the project was completed this spring and summer. The court
refurbishments at each location included repairs to surfaces, basketball rim replacement and other
contributions to basketball infrastructure. As part of the agreement, the city oversees maintenance for
the completed courts.

The community benefits plan was devised to create job growth and investment in Detroit's
neighborhoods.

Under that plan, the Pistons organization also agreed to the following:

● Complied with Detroit's Executive Order 2016-1 on hiring residents and funding workforce
training.
● Used commercially reasonable efforts to maximize post-construction employment
opportunities with Pistons Sports & Entertainment for city residents.
● Supported workforce development initiatives for city residents by donating $100,000 to
Detroit Employment Solutions Corporation.
● Partnered with the Mayor's Office to provide mentorship opportunities for young city
residents.
● Participated in the Grow Detroit's Young Talent summer jobs program.
● Hosting free youth basketball camps, clinics and other events for city residents to promote
youth basketball and youth enrichment programs in the city.
● Providing 20,000 free tickets per regular season to Detroit youth and residents to attend NBA
basketball games, in support of and in connection with community educational programs and
initiatives.

In addition to the community benefits commitments, the Tom Gores Family Foundation
announced its $20 million commitment to fund and renovate a new 25,000-square foot multi-use
community center at Rouge Park on the city's west side. In February, Gores, the Pistons, Henry Ford
Health and Michigan State University announced a $2.5 billion mixed-use development that will include
affordable housing, commercial and retail components to be anchored by a new hospital and medical
research facilities.

It was an important day for Ivey, who has strong Detroit ties.

"I'm very thankful to be able to be a part of this," Ivey said after news conference. "For children to be
able to come out here, be safe, play and to be able to be a part of this, it's special."