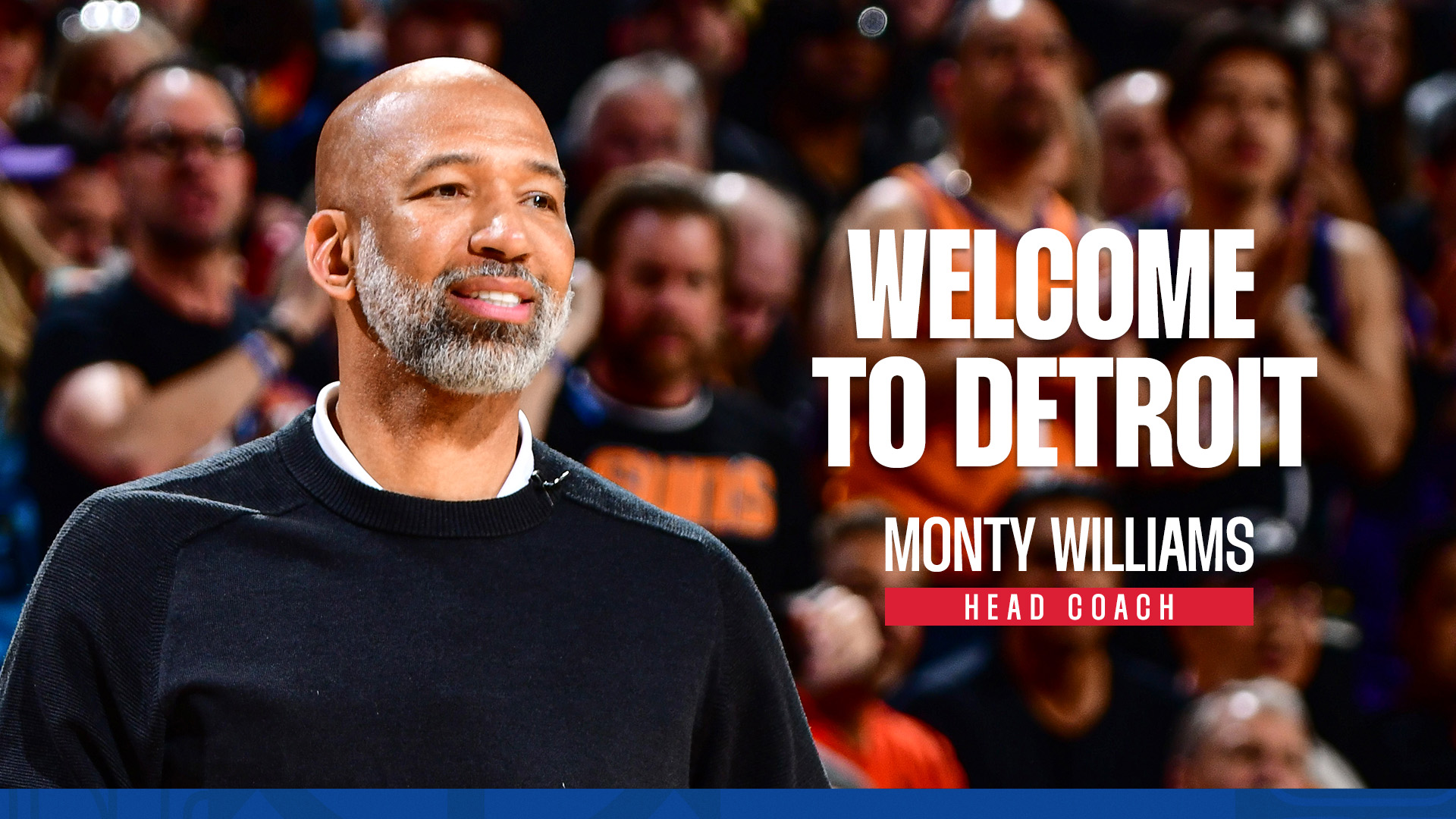 June 12, 2023 | Articles The Pistons
Detroit Pistons, Tom Gores announce hiring of new head coach Monty Williams, who will nurture 'culture of growth, development and inspiration'
DETROIT – The Detroit Pistons recently announced an agreement with Monty Williams to join the organization as head coach. Williams has already initiated the transition and begun scheduling player meetings and staff development.
"I couldn't be more proud to have Monty joining us at this important time to lead us into the next decade of our future," said Pistons owner Tom Gores. "He embodies all of the qualities we want in a leader for our Pistons franchise, and most importantly a teacher and mentor for our players. He will have an impact on every aspect of our franchise, on and off the court.
"After spending some time with Monty, it's clear that he's found a unique balance between achieving victory at the highest level while at the same time nurturing a culture of growth, development and inspiration," Gores said. "I'm beyond excited. This is a huge win for us."
Williams agreed to terms after a whirlwind series of discussions with Gores, Pistons general manager Troy Weaver and other Pistons executives that began over Memorial Day Weekend and culminated with a signed agreement.
"A week ago, I was not sure what the future would hold," Williams said. "But, after talking with Tom and Troy, I was excited hearing their vision for the Pistons going forward. They had a thoughtful plan and I am so appreciative of the emphasis they placed on the personal side of this business. They showed tremendous consideration for me and my family throughout this process.
"They also showed a commitment to success and doing things the right way," he added. "As we discussed the team and expressed our collective goals, I realized that this would be a great opportunity for me to help a talented young team and build a strong culture here in Detroit. This is obviously a special place with a deep basketball history, and my family and I are looking forward to the opportunity to be a part of this city and organization."
Weaver said the Pistons were surprised when Williams became available.
"Monty represented the ideal prototype for our young team, but we didn't expect him to be available," Weaver said. "When he suddenly became available, we jumped at the opportunity to speak with him. Monty is the prototype.
"When we set out on this search, we wanted a leader focused on discipline, defense and development," Weaver said. "His capability, his experience and his philosophy checks all those boxes. He has high character and high conviction. He will be a great leader and mentor for our young core, and given his career as a player, he'll connect with our veteran players as well."
The team's initial overture to Williams, a call to gauge his interest in meeting to discuss the Pistons opportunity, was placed on hold as he took time to consider his coaching future.
Over the Memorial Day weekend, Gores and Weaver re-connected with Williams, and offered greater insight regarding what the opportunity to join the Pistons would look like. The initial call led to a meeting at Gores' home, and a substantive discussion that led to the broad outline of what would eventually become a deal.
"I was able to spend some time with Monty and members of his family, and it was clear that he's not only a great coach and leader, but a man of great character who shares our goal to be impactful on and off the court," Gores said.
"Dwane Casey, who has transitioned into a front office role, helped set the table and guided the early development of our young core. We now have a talented young team ready to step up to the next level, and I have committed to providing every resource possible to maximize their potential," Gores added. "We are investing in Monty, and he is investing in us. We're excited to have him."
Williams, 51, has served as a head coach, associate head coach or assistant coach in the NBA for 16 of the past 18 years. He has coached in one NBA Finals (2021), one NBA All-Star game (2022) and won a Gold Medal with USA Men's Basketball as an assistant coach in the 2016 Rio de Janeiro Olympics.
He led the Phoenix Suns to the Western Conference Semifinals this past season, and was named 2022 NBA Coach of the Year after leading the Suns to an NBA-best and franchise record 64 wins during the 2021-22 season. He led Phoenix to the NBA Playoffs in each of the past three seasons. The Suns won 34 games during his first season on the job in 2019-20, a 15-game improvement, and 51 during his second year.
As head coach of the Suns from 2019-23, he compiled a 194-115 (.628) regular-season record. He has amassed 160 wins since the start of the 2020-21 season, the most in the NBA during that span. Phoenix won two Pacific Division titles during Williams' tenure, including a league and franchise-best 64-18 (.780) regular-season record in 2021-22. He has been named Western Conference Coach of the Month five times during his career and finished second in Coach of the Year voting in 2021. In 2022, Williams became the first coach to represent the Suns as head coach in the NBA All-Star game since Mike D'Antoni in 2007.
Prior to his appointment with Phoenix, he served as head coach of the New Orleans Hornets/Pelicans from 2010-15. Williams led New Orleans to the playoffs twice in his five seasons and his 2014-15 team finished eighth in offensive rating.
Williams began his post-playing career as a coaching staff intern under Gregg Popovich during the 2005 NBA Championship season with the San Antonio Spurs and served as vice president of basketball operations for the club from 2016-18. While with the Spurs, he was presented with the Sager Strong Award at the inaugural NBA Awards in 2017.
His assistant coaching career began with the Portland Trail Blazers under head coach Nate McMillan in 2005-06. Portland made the playoffs twice during Williams' tenure (2008-09 and 2009-10) and the 2008-09 squad ranked second in offensive rating and fourth in opponent points per game.
He also spent one season (2015-16) as the associate head coach for the Oklahoma City Thunder under head coach Billy Donovan and helped the Thunder to the Western Conference Finals. Pistons General Manager Troy Weaver was part of the Thunder front office during that season.
Williams returned to the bench in 2018-19 for one season as an assistant coach under head coach Brett Brown and the Philadelphia 76ers prior to being named head coach of the Suns. In seven seasons as an NBA assistant, Williams' teams registered a 304-270 (.530) mark with four campaigns of 50 or more wins. His teams qualified for the playoffs in four of the seven seasons.
A native of Fredericksburg, Va., Williams played collegiately at the University of Notre Dame (1990-94). He was named honorable mention All-American in his senior season for the Irish, averaging 22.4 points and 8.4 rebounds.
Williams was selected by the New York Knicks in the first round (24th overall) of the 1994 NBA draft. He went on to play nine seasons in the NBA with the Knicks, Spurs, Nuggets, Magic and 76ers. Williams averaged 6.3 points and 2.8 rebounds on 48.1% shooting in 456 career games.
Williams earned a degree from Notre Dame in 1995. He has five children: Elijah, Janna, Micah, Lael and Faith.