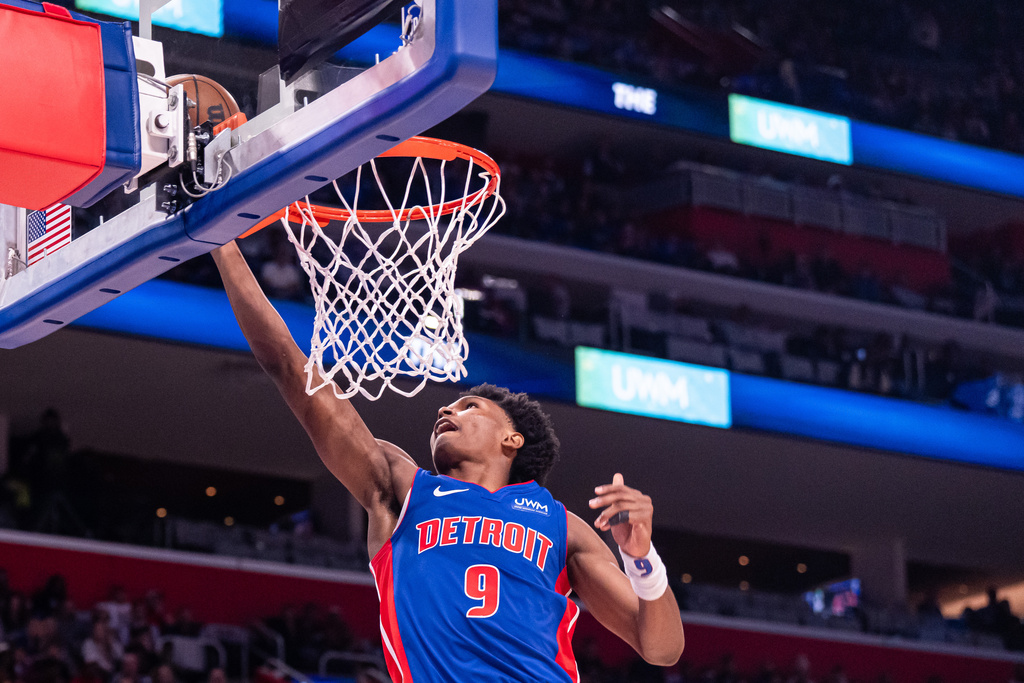 November 21, 2023 | Chairman's Q&A Homepage News The Pistons
Detroit Pistons owner Tom Gores' season outlook: Foundation in place, but 'patience is high'
DETROIT – Detroit Pistons owner Tom Gores addressed the media before the team's 118-102 victory over the Chicago Bulls in the home opener at Little Caesars Arena.
He gave more insight on the decision to hire veteran coach Monty Williams, the collection of young talent assembled by general manager Troy Weaver, and several other topics during the 10-minute session with reporters.
(On a defense-first approach): "I think it matters because defense is controlled, offense is not. We have good shooting nights; we have bad shooting nights, but defense is something you can check the box. It must be a staple for us. As much as the NBA is a lot about points, shooting and so on, eventually, you got to play defense. I do think it matters, it's a priority."
(On his message before the season): "I know that we're a young team, but that's not an excuse. Nobody should put limits on you. The only person that puts limits on you is yourself. Do you want to outperform what everybody else thinks? We have a great foundation. We are not rebuilding, we are building."
(On what constitutes as a success for the season): "I want to see us compete and see that our priorities are defense and hard work. My expectations are not as important as their own. They have high expectations, and if you talk to (general manager Troy Weaver), he has high expectations too. My expectation is that they approach every game with no limits, that we compete and work hard, and we'll see what the result is."
(On patience this season): "Patience is high. We wouldn't bring somebody like Monty if we had a bunch of players that weren't ready. It took us a bit to create this foundation.
(On Troy Weaver and culture): "I think Troy has done really an incredible job. When he came in, there were a lot of moving parts. The culture is very good. You're not going to find a better locker room than the one we have. We have a bunch of unselfish players. I think we're on the right track. Troy's put us in a position where we have a lot of room. If you guys remember our cap space, just three, four years ago, we were stuck. We not only have a foundation, we have freedom."
(On Detroit's timetable): "I think it takes time if you really want to grow something that's sustainable for a long time. I probably wanted to win too early. I love Detroit, it's where I'm from. There's a part of me that didn't want to just satisfy the fans. I wanted to get to a winning culture, but I'm not sure I'd do it differently. Sometimes, in order to do it right, you have to do it wrong. We have brought great people. We have (Vice Chairman Arn Tellem). The thing that we're consistent about is we bring good leaders to Detroit. We brought Monty. If there's a rhythm that you see is that we can sell Detroit. Whether it's Monty, whether it's Stan Van Gundy, whether it's Dwane Casey, whether it's Arn Tellem, we can sell Detroit, the organization's being built with the best people and now we just got to win."
(Why culture is important): "People think culture is the way you feel. I feel culture is the way you do things. You decide that you're unselfish. That's a culture. When you decide that when one of the players is having a hard time and the other player picks them up. That's the culture. So, culture, to me, is an approach and within hard times figuring out how you bring people up. It's how we act. It includes just doing the job. I think we have a group that acts properly, I really do."