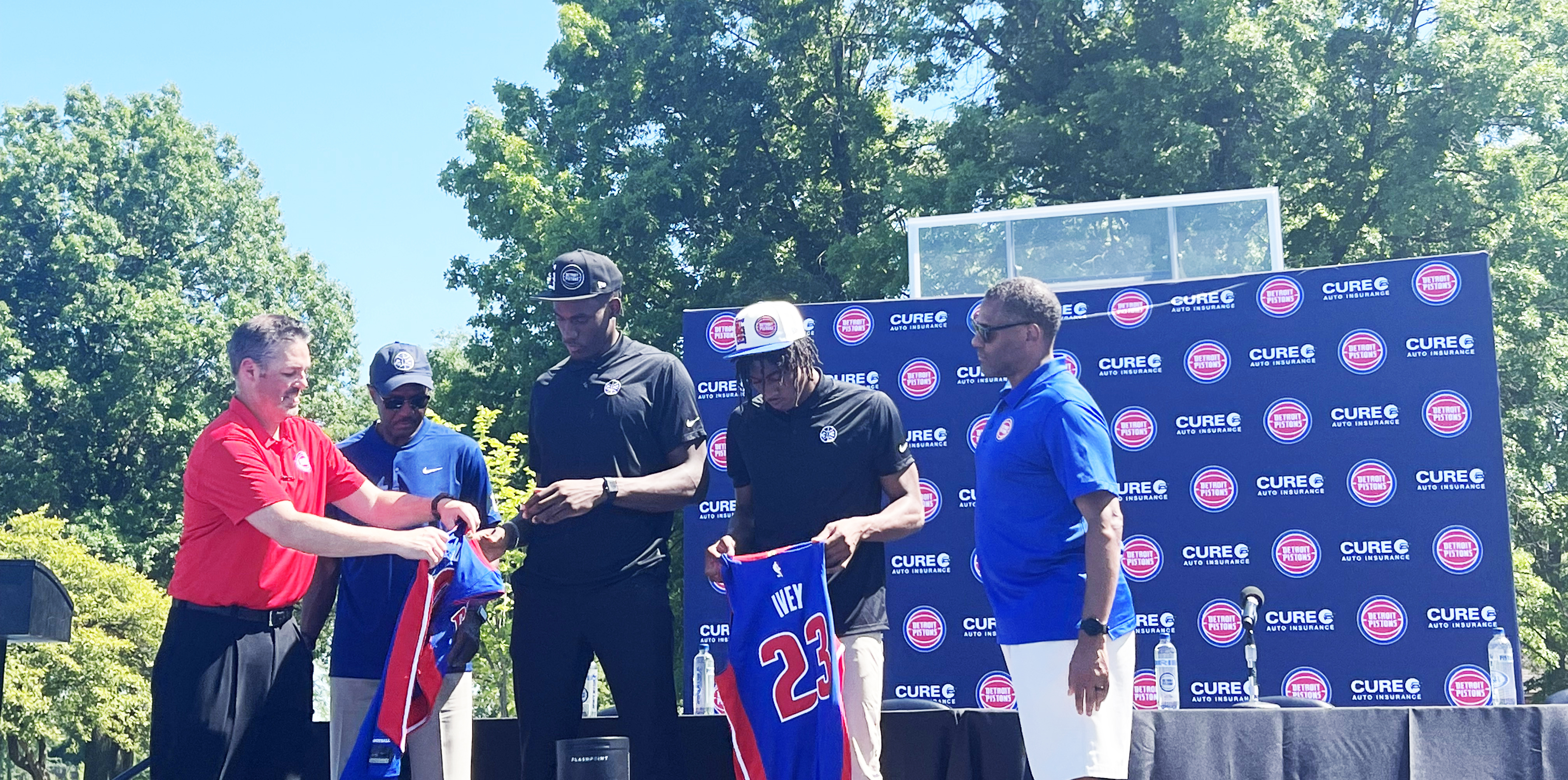 June 28, 2022 | News The Pistons
Detroit Pistons owner Tom Gores' 'go for it' advice to GM Troy Weaver helps produce productive draft night in guard Jaden Ivey, center Jalen Duren
DETROIT – The Detroit Pistons are earning rave reviews for their draft night haul of guard Jaden Ivey and center Jalen Duren.
Pundits are crediting general manager Troy Weaver for his draft night maneuvering to add speed and athleticism to the Pistons' young roster. At the late June news conference to introduce the rookies, Weaver said Detroit Pistons owner Tom Gores advised him to be assertive a few hours before the draft.
"Our owner Tom Gores called me and said: 'Hey, I want you to be aggressive and go for it.' I didn't know what the rest of the day would look like, but this is what the result of being aggressive and going for it is, and we're thankful and grateful that we landed here," Weaver told reporters in his opening remarks at Rouge Park on the city's west side.
"These moments will be inflection points for the restoration."
The Pistons introduced Ivey and Duren at Rouge Park, the site of the $20 million community center Gores announced earlier in the month. He pledged to work with the Detroit Parks & Recreation Department and residents to develop the new 25,000 square foot multi-use facility adjacent to historic Brennan Pool in the Cody Rouge neighborhood. The plan will also renovate the existing pool and locker room facilities and bring a diverse range of year-round programming to the neighborhood. The project is anticipated to be completed by the end of 2024. It was the first Pistons-sponsored event at the park since the Gores announcement earlier in June.
Gores called the rookies before the event.
"He just said he's very happy to have me here," said Ivey, who has Detroit ties. "There's going to be struggles on the court, but there's nothing I can't handle. He just said stick with everything and keep working hard. That's what's most important."
Duren said: "He's really excited, really happy to have both of us here and ready to get started. He showed a lot of love. It was a good call."